BRITISH police officially added the radical global warming activist group Extinction Rebellion to a list of dangerous ideologies alongside Jihadist and terrorist groups – yet are already bowing to pressure from the left-wing media.
In a leaflet handed out by the police to schools, teachers have been informed to refer any pupil promoting what has now been declared an 'extreme ideology' peddled by Extinction Rebellion, to the Government's Prevent programme.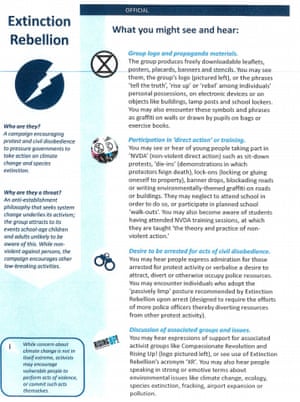 Extinction Rebellion rose rapidly in popularity and growth across the world, but has been slammed for its pseudo science and for lying to children that they only have several years before the earth will be destroyed.
The 12-page guide produced by counter-terrorism police in the south-east called "Safeguarding young people and adults from ideological extremism", teaching staff are asked to be vigilant for pupils who speak in "strong or emotive terms about environmental issues like climate change, ecology, species extinction, fracking, airport expansion or pollution".
In the guide staff are also advised to listen and look out for young people who "neglect to attend school" or "participate in planned school walkouts"
By law teachers have to report concerns about radicalisation.
Since the release of the document, however, the left-wing Guardian (supporters of the movement) attempted to put pressure on the police to remove the group from the list – with police weakly buckling and stating that they would review the guidance to clarify their position on Extinction Rebellion.
The Guardian's own report on the matter then added: "But following further questions [from the Guardian], counter-terrorism police confirmed it had been circulated to "statutory partners" and had now been recalled. They said they now accepted the protest group was not extremist."
Yet this statement cannot be accurate. Official literature must be written, drafted, and then checked several times before going to print. The leaflet also contains in-depth reasoning which shatters any claims of a 'mistake'. The alternative is that our national police force has been influenced by a media organisation and are now trying to prevent potentially negative PR.
VoteWatch has contacted the relevant department for clarification on why they clearly state in their literature that they believe Extinction Rebellion to be an extremist group, why they provided numerous points to support their claim, and why they are now retracting it.