AN organisation chaired by Jeremy Corbyn that fiercely opposes all wars against Islamic terrorists published an article during his tenure praising extremist group Hamas and stating that the world should go to war with the Jewish homeland.
The far-left 'Stop The War Coalition' was founded shortly after 9/11 to oppose the allied force's War on Terror that saw British and American troops rightly react to the horrific attacks in New York in an attempt to crush Jihadists. The group opposed every invasion into Muslim lands – yet were unanimous in not only their condemnation of Israel, but with (ironically) even calling for war.
The group has long been riddled by accusations of antisemitism and that they sympathise with Islamic terrorists. Current Chairman, and Corbyn's replacement since his rise within the far-left, is one Murad Qureshi, a former Labour London Assembly Member.
This year, Qureshi was exposed as having shared a tweet saying: "you can get away with offending anyone so long as they're not Jewish", and for seemingly supporting the antisemitic Nazi Party by publicly questioning the validity of a trial against Adolf Eichmann – a key orchestrator of the Holocaust. Like Corbyn, Qureshi also happily met with officials of Hamas – the extremist group at the helm of Palestine whose military wing is a proscribed terrorist organisation responsible for the brutal murder of men, women, and even school children.
Back in 2014 during his time as Chairman of the group, the now Labour leader Jeremy Corbyn – renowned for allegations of antisemitism – is said to have approved the following article that was submitted by his group and published on their website: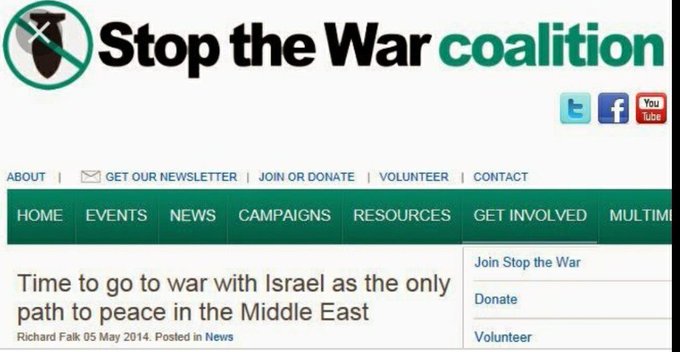 The website has since tried to hide the article from the press and public to protect Mr. Corbyn – yet a copy still remains archived.
In the article the group praises Hamas and openly calls for war on Israel – a tiny state they accuse of occupying Palestinian land that is ironically itself surrounded by endless enormous countries that were originally taken over by Muslim invaders. Israel is inhabited predominantly by Jewish people; many of whom came to settle in peace following their harrowing persecution during the holocaust.
Taking to Twitter, director of Campaign Against Corbynism, James Bickerton tweeted a reminder about the scandal – just one of many instances in which Jeremy Corbyn has been directly linked to alleged antisemitism.
Mr. Corbyn, who stepped-down from his role as Chairman of the 'coalition' upon becoming Labour leader in September 2015, has stated publicly that he 'still supports' the organisation.