EXTINCTION Rebellion Priti Patel – the UK's Home Secretary – has defended counter-terrorism police for putting Extinction Rebellion on a list of extremist ideologies – saying it is important to look at "a range of security risks".
Patel told LBC radio that assessments had to be "based in terms of risk to the public, security risks, security threats".
At the weekend it was revealed that British anti-terror police had officially added the radical global warming activist group Extinction Rebellion to a list of dangerous ideologies alongside Jihadist and terrorist groups – yet are already bowing to pressure from the left-wing media.
In a leaflet handed out by the police to schools, teachers have been informed to refer any pupil promoting what has now been declared an 'extreme ideology' peddled by Extinction Rebellion, to the Government's Prevent programme.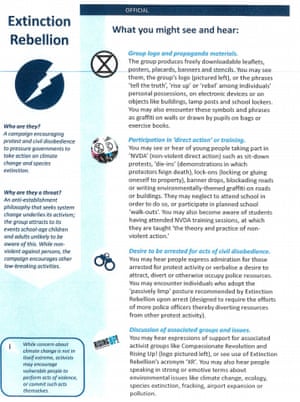 XR has now threatened legal action after the Guardian revealed it had been placed on a list of ideologies that should be reported to the authorities running the Prevent anti-radicalisation programme. 
Sir Peter Fahy, who was head of Prevent from 2010 to 2015, subsequently told the Guardian that such categorisations risked Prevent "losing confidence from communities."
But many applauded the move – fed-up with the extreme, often bizarre displays, patronising and ill-informed claims, and the disruption they have caused to Londonders.
Home Secretary Priti Patel has now declared herself as one of them. When asked about Fahy's comments, Patel defended the Prevent programme, and the police's actions.
"I think it's important to reflect, when it comes to anti-terrorism, Prevent, and the work that the government is doing, and has done for a considerable period of time – we are constantly looking at individuals, groups," she said. "That's right and that's proper. But everything has to be based and calibrated upon risk.
"Sir Peter Fahy has made one comment. Quite frankly, I look at a range of security risks."
Asked if she believed XR was a terrorist organisation, Patel replied: "No, they're obviously a protest organisation. But everything has to be based in terms of risk to the public, security risks, security threats. That is based on information from the police, and various intelligence that we will receive. That's the proper thing to do. You develop your policy approach accordingly."
A spokesman for Prime Minister Boris Johnson has said that the issue was primarily a police matter. He said: "The home secretary was very clear that it was considered a protest group. These are obviously matter for the police and the police set out on Friday that they were looking at this."