A LABOUR Councillor from Peterborough who was running as a Parliamentary candidate for North West Cambridgeshire has been deselected at the 11th hour following a damaging yet unsurprising antisemitic rant on Twitter.
The news comes following yet another week of embarrassment for Corbyn's far-left socialist party – the only party ever to be investigated for widespread racism and antisemitism in British history with the exception of the BNP.
In recent days, several Labour candidates have been forced to resign, including Jane Aitchison, the candidate for Pudsey, West Yorkshire, who was caught comparing Tony Blair to Adolf Hitler (while defending fellow PPC Labour hopeful Zarah Sultana – who publicly said that she would celebrate the deaths of Blair and Israeli Prime Minister Benjamin Nethanyahu), and Labour shadow minister MP Dan Carden who faces mounting over claims from multiple witnesses that he sang an anti-Semitic version of the Beatles song Hey Jude on a raucous coach trip – replacing the name 'Jude' with 'Jews'.
Ed Murphy is a long-serving controversial Labour Peterborough Councillor.
Last week, VoteWatch reported on his ongoing wasting of police time and taxpayer's hard-earned cash by attempting to press charges of assault against a gentleman accused of tapping him on the back of the head with a rolled-up piece of paper.
This week, Cllr Murphy – who has previously been slammed for calling all leave voters 'uneducated' on live radio – was due to enter his nomination papers after being selected as the candidate to challenge the Tory Party's MP Shailesh Vara's seat in North West Cambs.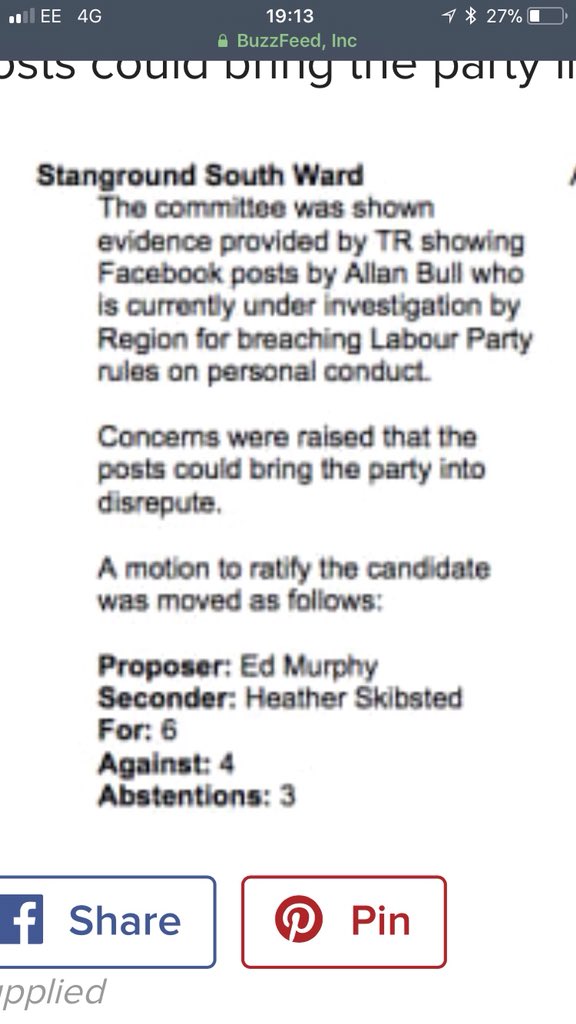 Yet at the eleventh hour the dubious Councillor and former failed Police Crimes Commissioner candidate was held back from crossing the finishing line after screenshots of past comments made by Murphy were leaked to the Labour Party HQ.
In one of them, from July 2014, the Councillor likened Israel to a terrorist state, and he also shared images of a flag where the Star of David – a symbol deemed sacred by followers of Judaism) was replaced by a skull and crossbones, and also bizarrely claimed that the Israeli armed forces were backed by the Conservatives on Peterborough Council.
'Israel a terrorist state?' he tweeted. 'And Israeli military (secretly backed by the Cons on Pboro Council) are international pirates.'
Murphy – who refused to come forward and tell the truth about convicted vote-rigger Tariq Mahmood's involvement in the crooked Peterborough By-Election – has not commented on his deselection other than to say that he still supports Corbyn and the Labour Party this General Election.