JUST months after the revelation that a convicted vote-rigger was working on Labour's Peterborough By-Election campaign, an even bigger threat has presented itself in the form of a crooked former mayor's political ambitions with the Labour Party.
In the fraud-riddled London borough of Tower Hamlets, disgraced vote-rigging former Mayor Lutfur Rahman has been spotted canvassing for Labour's Parliamentary candidate, Apsana Begum.
In 2010, Lutfur, 54, a former Labour Councillor, was elected as the Leader of the majority Labour Group on Tower Hamlets Council, before eventually being forced to step down after it was revealed by Channel 4 Dispatches that he was heavily financially sponsored by the Islamic Forum of Europe – described by the Telegraph as an extremist organisation.
He was re-elected at the 2014 mayoral election after forming his own party, Tower Hamlets First, with a suspicious turnout of nearly twice that of the 2010 election. The election however has since been declared void, with Rahman reported personally guilty by his agents of making false statements of fact about another candidate's personal conduct and character, of illegally dishing-out council grants and bribes to his friends and associates, and of 'spiritual intimidation of voters'.
He was also reported guilty by his agents of personation, postal vote fraud, fraudulent registration of voters, and illegal payment of canvassers, in what became the biggest electoral scandal in British history.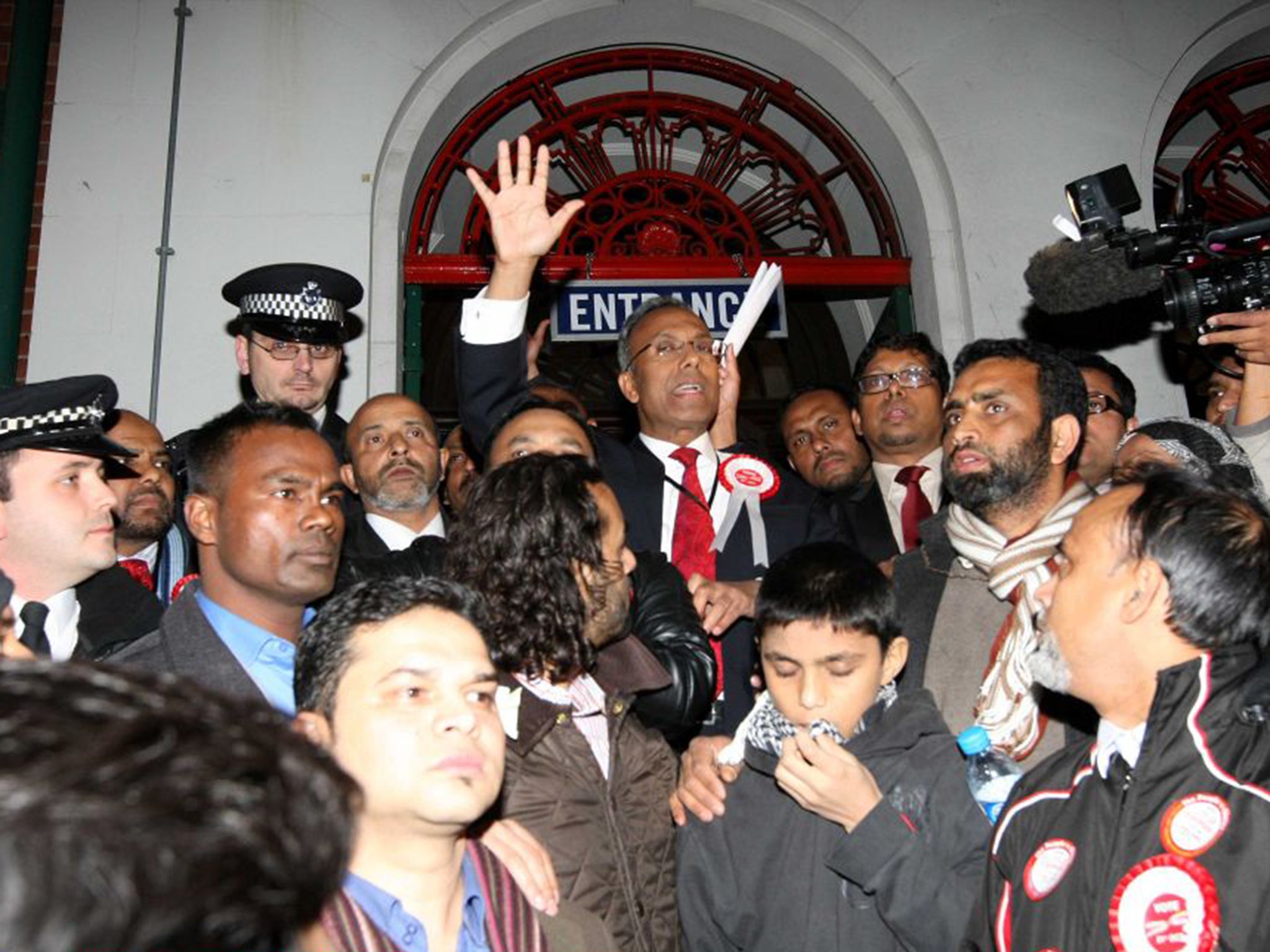 Yet shamelessly, despite the convicted ballot burglar currently being barred from standing for public office, he has now been spotted out knocking on doors in the same borough where he carried-out his despicable attacks against democracy.
He is also believed to be engaging in telephone canvassing and signing-up voters to be given lifts to polling stations.
This time, VoteWatch has established through interviews with locals, political groups, and political activists working close to Rahman, that the fraudster is planning a return to the natural home of electoral fraud – The Labour Party.
Throwing his backing behind Labour's candidate Apsana Begum, who is worryingly the former aide to Rahman himself, the disgraced politician has in recent days been seen campaigning for Labour and knocking on doors to 'influence' votes.
Momentum-backed Apsana, who is the favourite to win the seat in the inevitable General Election, has previously been condemned for sharing antisemitic posts on social media. Yet despite this, Rahman and his rabble of vote-riggers have pledged their support to Begum, whose selection event was described by many locals as 'dangerous' and 'intimidating', with various reports of the vote being rigged.
Multiple complaints arose on the night, with the selection meeting for Labour descending rapidly into chaos. Many members fled early from the event because of the hostile atmosphere, with one candidate tweeting out that he had received homophobic abuse from those in attendance.
"Men told women how to vote" said one source who is far from happy about the validity of Begum's selection. "At least one man was seen grabbing the ballot paper out of a woman's hands".
Police were eventually forced to attend the scene, yet it is understood that no arrests were made.
Rahman has remained fiercely active in Tower Hamlets politics since his fall from grace, and was behind the formation of the Aspire party in February 2018, which included most of the crooked former Tower Hamlets First councillors.
He has also previously helped campaign for Independent candidate Oliur Rahman in the 2017 general election, and helped a councillor win his seat in Tower Hamlets in an election that was described by a rival as 'highly suspicious/potentially illegal'.
In recent days he has sent a begging letter to the electoral petitioners pleading to get his bank accounts unfrozen amid rumours of an electoral deal between Labour, Begum, and the remnants of Tower Hamlets First.
In a Facebook post, Lutfur's chum Oliur Rahman explains how, after much thought, he has also decided to throw his backing behind Begum.
"They [Lutfur and Oliu] have been pulling the strings behind the scenes for years" one source close to Rahman told VoteWatch. "Get candidates elected through their dodgy methods, and then they know that those candidates owe them big time. He's got a lot of influence here. There's big talks too about him paving the way to rejoining the Labour Party".
Other undesirable cronies and former Councillors close to Rahman have now also pledged their support for Labour, including Shaheed Ali, a former councillor who this week shared an antisemitic tweet, was recently prosecuted for housing fraud, and who currently faces jail-time.
Ohid Ahmed, Lutfur's former Deputy Mayor, has also followed Rahman's lead and declared his support.
The former Deputy's son, Zahin Ahmed, recently joined in declaring his support (as well as his deplorable disdain for the Jews of Israel).
Speaking to VoteWatch, a representative from The Tower Hamlets Conservative Party Association said: "I believe he [Rahman] is very much attempting a return.
"His ban from standing for public office runs out in time for him to run in the next Mayoral election here."
"We have also heard rumours about a Lutfur meeting or planning a meet with senior labour figures".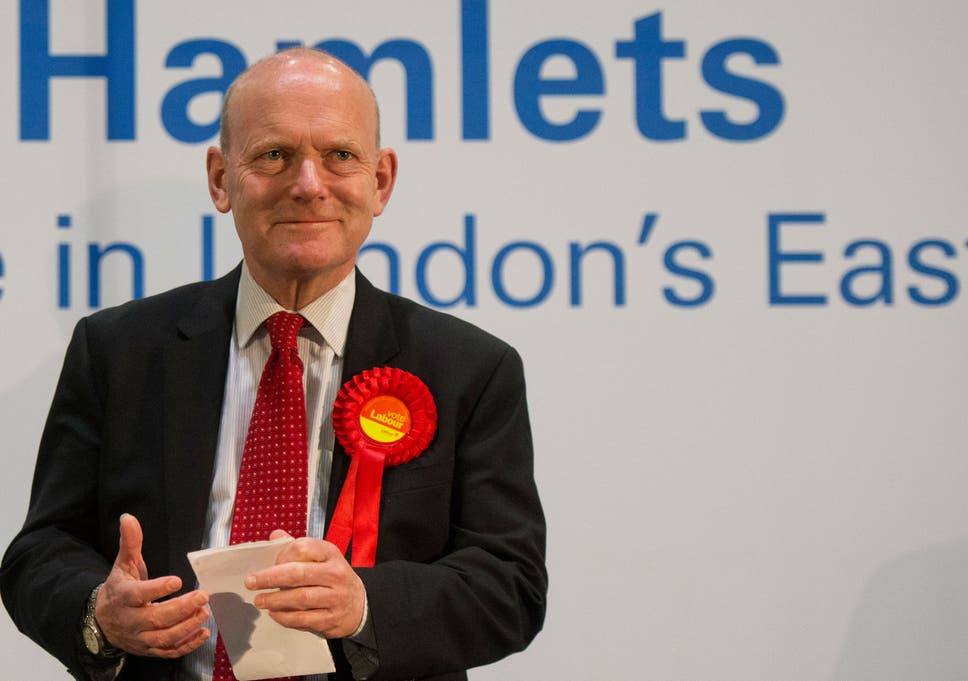 "Apsana Begum used to work in the Mayors office at Tower Hamlets council when Rahman was Mayor. She only joined the Labour Party in 2015, after Corbyn became leader. Begum is also close to Christine Shawcroft who defended Rahman during the election petition and spoke at a rally of supporters after his removal from office by an election court for a litany of electoral offences."
The majority of Rahman's droogs have previously declared their support for Jeremy Corbyn, including Rahman himself, who first tweeted out his support in 2015. Their support however seems to have intensified following Corbyn's hiring of a convicted vote fraudster who had been convicted of filling-out vote registration forms en masse herself.
"Due to Police inaction against him Rahman will continue to paint himself as a victim – a victim of racism and islamophobia. He will blame his removal from office on the right wing press. That will be a very powerful narrative to persuade local Bengali's to vote for him even though the judge in the petition stated that the Bangladesh community in Tower Hamlets were victims of Rahman as he had fed them fools gold."
Local Labour Councillors are rumoured to be unhappy with the potential move.
"Just 2 out of 41 Labour councillors came out in support of Begum" the Tower Hamlets Conservative group added. "It's likely a huge number of Labour councillors and activists will simply campaign in other nearby seats rather than campaign for Begum who is vehemently disliked by large numbers of local Labour members".
VoteWatch has sent volunteers to observe the ongoing campaigning in Tower Hamlets, along with two undercover journalists. We will provide updates when available. In the meantime it is pretty safe to say that the vote-riggers of Britain are gravitating wholeheartedly towards the Labour Party – and (going by recent events in both Peterborough and London) the Labour Party are likely to welcome them with open arms.